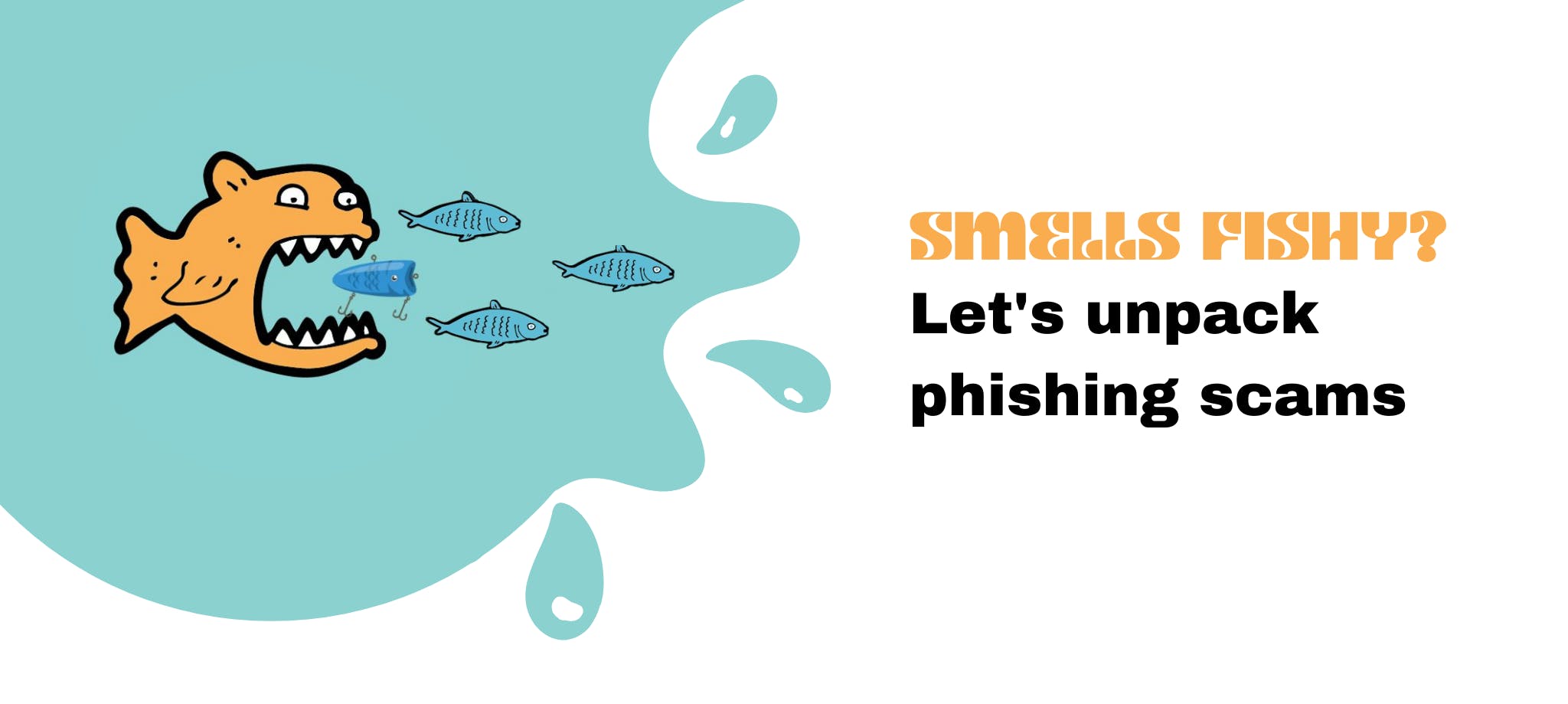 Smells fishy? Let's unpack phishing scams
Last updated: 17 November 2023
In the vast ocean of the internet, there's a silent predator lurking beneath the surface, waiting for an unsuspecting prey. Ever heard the term "phishing" and wondered what it's all about? Well, if something smells fishy, it might just be a phishing scam. Before you take the bait, let's dive into the deceptive world of phishing and uncover the tactics scammers use to reel in their victims. The waters are murkier than you might think.
To put it simply, phishing scams are attempts made by scammers to trick a person into giving out their personal information including details such as their bank account numbers, passwords or credit card numbers.
So, how do scammers reel in their victims?
Scammers will typically lure a person by presenting themselves as being from a legitimate business such as a bank, private online business, telephone or internet provider. These scammers attempt to confirm your personal details for example, they may claim to be from the bank and are required to verify your details to update them due to an error in their systems. Alternatively, these scammers may send you an alert message via email or mobile, regarding an "unauthorised or suspicious activity on your account".
The purpose of phishing messages is to appear genuine and often copy the format used by the organisation they are imitating. Warning signs to look out for include:
Email, text or phone call claiming to be from a bank, asking you to verify your details.
An email or text that doesn't use your correct name and may contain grammatical errors or typos.
The website address or domain does not appear correct.
The email or text uses urgent language asking you to act quickly before there is a lock placed on your account.

Navigating the treacherous waters of virtual impersonation
Follow these tips to remain vigilant and to be on top of phishing scams:
Never click on the links that look and ensure you delete the email or text message. If you are unsure about the legitimacy, reach out to the organisation they are claiming to be from to verify if the communications is legitimate.
Never provide personal, credit card or online account details if you receive a call. Instead, ask for their details and reach out directly to the organisation to validate this information.
If you are worried about ID theft, you can place a ban on your credit file using SavvyShield.