Last updated: 27 April 2023
A temporary ban can be requested on your credit report if you're a victim of fraud or if you're concerned that you'll likely be. This means your credit report can't be used or disclosed by a bureau in the ban period, effectively blocking new credit applications being made in your name.
To make this ban request through Credit Savvy, you will need to:
Download the Credit Savvy App
Once you've logged in, click the Shield icon on the bottom navigation (i.e. the 'Protect' tab)
Follow the steps, which include agreeing to the terms and authorisations you need to give to Credit Savvy and Experian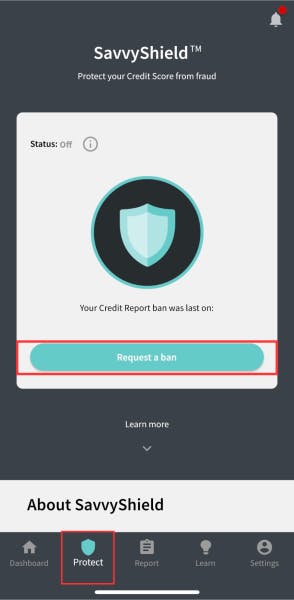 Once you agree to request a ban on your Credit Report, a request will be sent to Experian, our credit reporting body (CRB) partner. Experian then forwards your ban request to the other CRBs to implement from their end. Experian will simply share your ban request with the CRBs, it is then the responsibility of each CRB to act upon the request.
A ban initially lasts for 21 days from the date the ban request was received. The end date may vary from CRB to CRB depending on when your ban request was processed. You will be notified of this by each individual CRB via email.
It's free to request a ban and any subsequent extensions, and there's no limit to the number of times a ban can be extended, or the length of time a ban can be extended to. We've covered this in more detail here:
There is also some further information in the following video and articles that you may find useful: